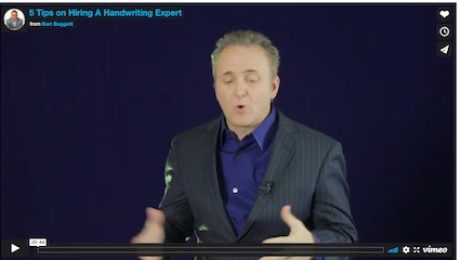 If you are considering hiring a forensic document examiner, this video helps you know what questions to ask and how to hire the best one for your case.  Most people refer to this profession as a handwriting expert, a handwriting analyst, or a forensic document examiner.  They are all the same terms when being used by a legal professional.
How many documents have been forged?
Do you need a forensic document examiner?
How many questioned documents do you have?
Does your case involve ink and paper testing?
Do you offer a flat rate or retainer?
"Here are the top 5 tips to hire the right questions before hiring a document examiner." In order to hire the right forensic handwriting expert for your case, you need to make sure the expert you hire has been court qualified over 100 times and has the proper education and verbal skills to past voire dire.  Not many forensic document examiners have testified over 100 times and the judge 100% of the time accepted his/ her credentials.  So, ask the right questions and hire the right expert for your case.
Bart Baggett is a court-qualified document examiner serving the Dallas, TX (DFW) and North Texas area for the past 25 years. Contact his office today to see if he has availability for you to become a new client.