Tuesday, 27 December 2022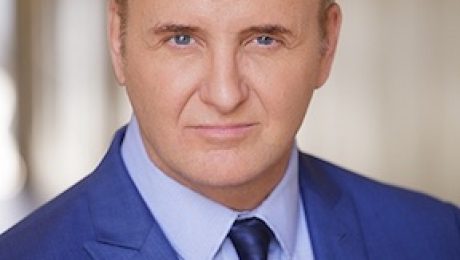 If the signature in question is on a last will and testament, the legal process called probate must be followed. So you may want to see an attorney after you have verified the signature is not a forgery. The court makes the final decision as to what happens to the deceased person's possessions. If the Last Will and Testament is forged, that document will be thrown out. The estate will be "in-testate". If you are dealing with an autograph, deed, contract or another legal document… the same procedure applies.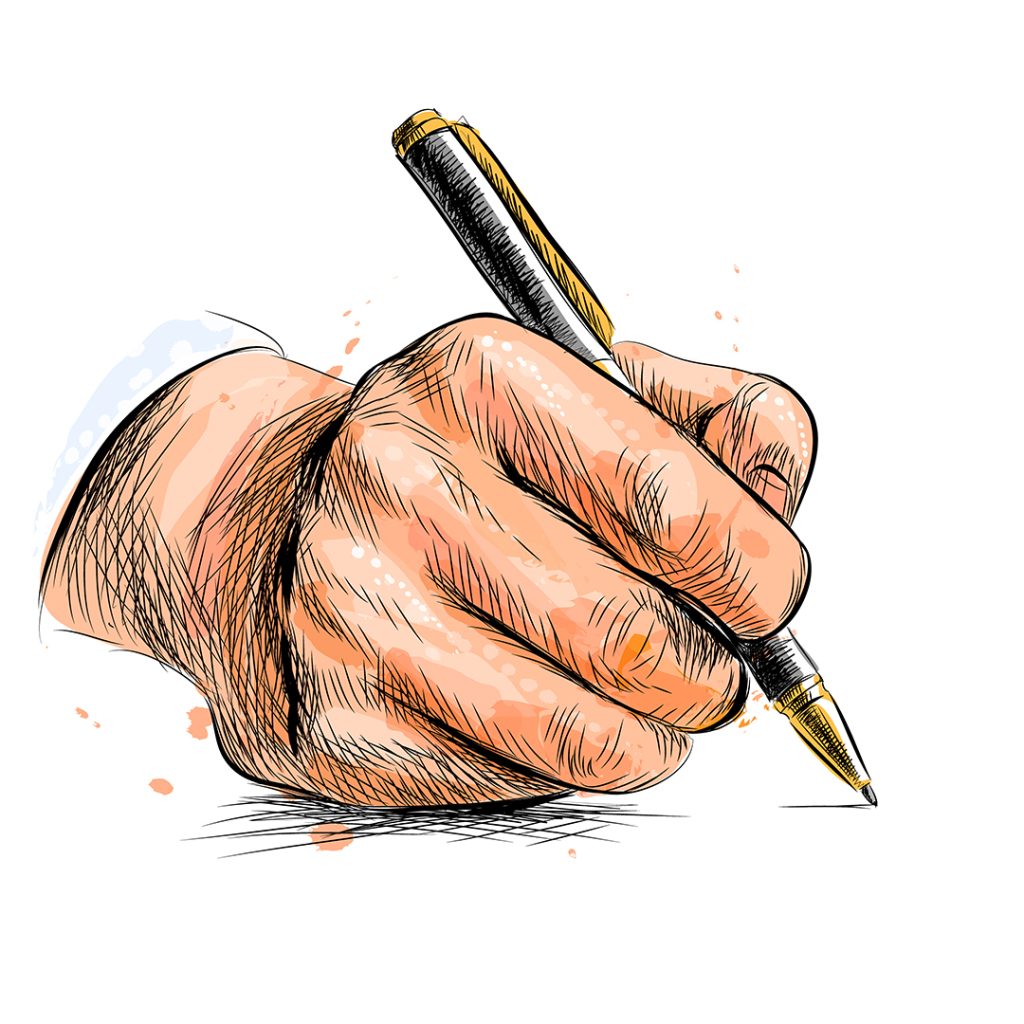 Where can I verify a signature first?
In most cases, being charged with a crime follows an arrest by law enforcement. If you find yourself in a civil courtroom, it's because someone has filed a lawsuit against you or because you intend to file a lawsuit against another party. Take O.J. Simpson as an illustration. The truth is that he was involved in two separate legal cases. Everyone at his criminal trial saw him flee from the authorities in a pickup truck. He killed Ron Goldman. The woman's family sued him in civil court, and he also lost that case. These are the two independent tribunals.
The probate court is a separate judicial system. They deal with estates and nothing else. Judges who are skilled at detecting liars sit in those tribunals. They're surveying the room to determine which of the relatives is telling the truth. The door is opened by one sibling, who declares, "Hey, I adore my mama." I was number one. The only person who ever truly loved me was my mom. When I needed something, she made sure I got it. Like the maid or the cleaner.
Alternatively, the "caretaker" figure says, "She gave me everything." You probably already know that John is a Wyoming resident. He never visits her. And then, out of nowhere, they produce a will with the temperament of a five-year-old. The judge examines it and expresses doubt about its legitimacy. Get a professional in forensics to analyze the handwriting. More of our customers find us through word of mouth, with many coming to us after being referred by the court or one of our lawyers.
They need to determine its authenticity. To counter that, they only need to retain the services of a handwriting analyst. We put the paper through its paces. To ensure the ink is good, we put it through its paces. We are investigating possible age ranges for it. They will have a lot riding on the authenticity of the documents. If the estate in question is worth $25 million, money should be invested in a lawsuit.
A customer once came to me in a squabble over a pickup truck they had purchased for $3,000. I was confused when I found out I was getting a thousand dollars. He says, "The pickup truck's worth is irrelevant." My ex-wife stole my grandfather's pickup truck, and I need it back. That means it was purely emotional. The sentimental value alone justified taking the matter to court. In this field, you encounter many different scenarios.
So, to rephrase the original question: how is a signature verified? The solution is to consult a handwriting analyst. A forensic document examiner is what you need. You should refrain from using the services of a graphologist. Well, that's a new twist. Never use the services of a forensic accountant. If you need a handwriting expert, don't employ an attorney.
A forensic document examiner or expert in forensic handwriting is what you require. These expressions. And if you type in what you're looking for, Google will find it. Alternatively, you might use my online directory, handwritingexperts.com. We have hand-picked the greatest people in the country, and you are free to hire anyone listed there.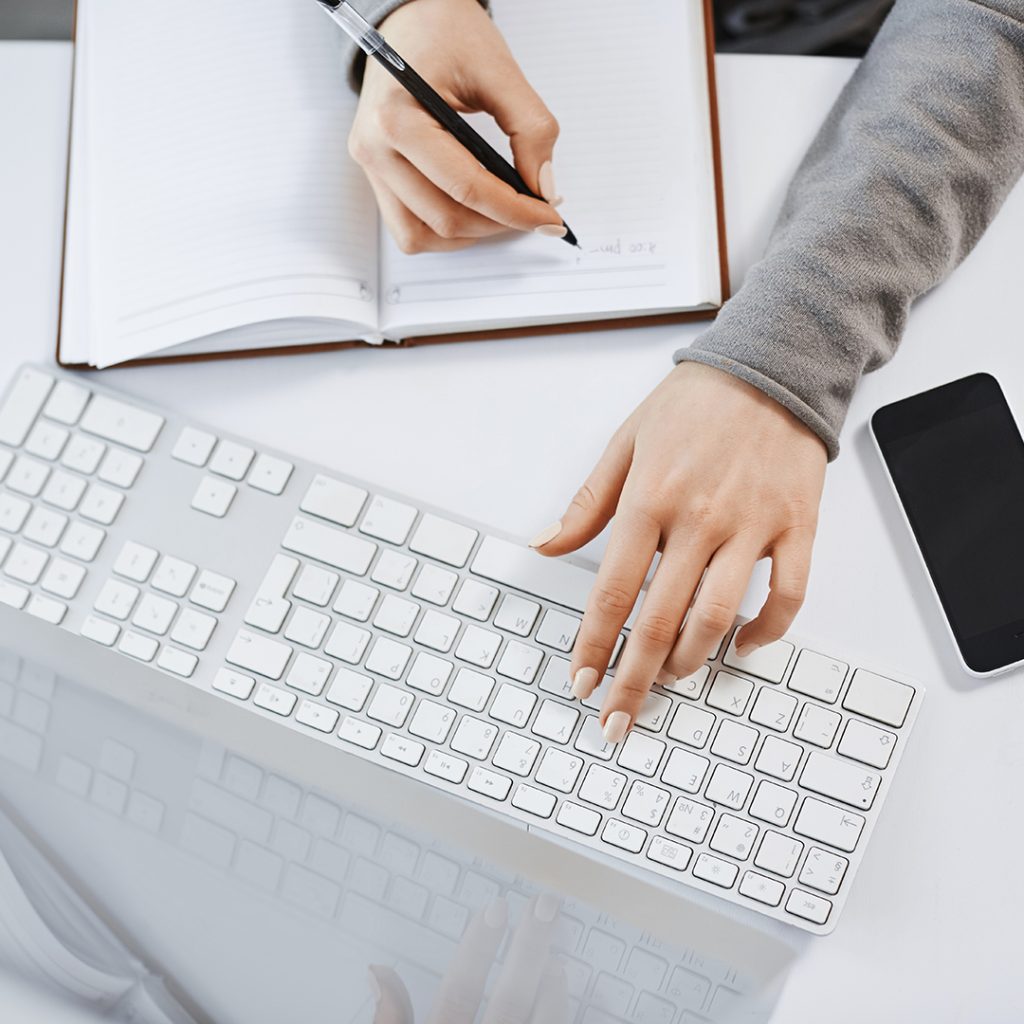 The problem with authenticating is that the results provided by Google include many baseball card collectors, collectible magazine publishers, and painting authenticators. And what most people want—at least the individuals who work with me—is to determine whether a signature or a document is authentic. There is a will in place, for instance, if your grandma passes away (God forbid she doesn't pass away).
There are several signatures on the will, including the signatures of witnesses. You would be interested in finding out whether or not those signatures are genuine or counterfeit. You might search the internet for information on how to fix a forged signature, hire a handwriting expert, hire an expert to determine the validity of a signature, and so on. However, some individuals may present themselves and state, "Hey, I want to authenticate this signature."
An individual who has hired me as their consultant is out there. She believed she had inherited a large sum from her grandfather. Then, in his will, her uncle made a surprising change. And the riches, it would appear, were left in his will. Uncle has died. My client has been told she will inherit millions of dollars, but two will appear unexpectedly. I need your advice. When starting, what would you do first? Get an attorney?
Be Careful Which Handwriting Expert You Hire for Your Signature Case
There are only a few handwriting experts working in the United States that have been court-qualified and testified over 100 times. Make sure to hire someone with that level of credentials and experience.
If you want to talk about your forensic handwriting case, just go to this website and speak to one of our case consultants. 1-800-980-9030.
https://handwritingexpertusa.com
Some clients prefer to just pay a flat rate rather than worry about being billed hourly. For example, a client could give pay a flat rate of $2000 for two documents. Sometimes, jobs like that are 2 hours of work, sometimes 5 hours. If it takes the expert five hours, the client got a really good deal going with the flat rate option as opposed to paying an hourly fee.
If you want to talk about your forensic handwriting case, just go to this website and speak to one of our case consultants. 1-800-980-9030.
Here are some recommended experts in various locations around the USA.
https://handwritingexpertdallas.com/
https://californiahandwritingexperts.com/
https://floridahandwritingexperts.com/
https://handwritingexpertusa.com
Saturday, 12 February 2022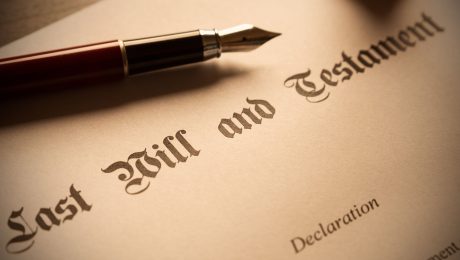 This short article tells you how to deal with the probate court and the possible forgery of your parents' will. The death of your parents is a difficult time.
You're probably here because you've just lost one of your parents, and now you're tasked with handling the last will and testament.
If the signature on the Last Will and Testament or those Trust documents doesn't look authentic, this article is for you.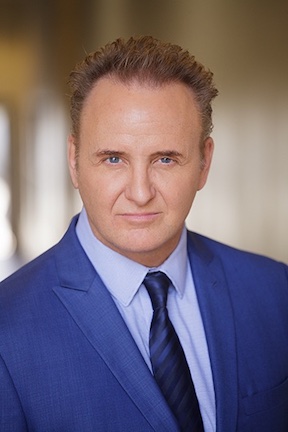 My name is Bart Baggett and I founded Handwriting Experts Inc over 25 years ago to help people just like you. We specialize in probate cases, involving signatures, trusts, deeds, and wills.

Oftentimes, it is in the case where someone has passed away and the entire estate rest in the hands of the probate court judge. If a judge decides that this is what your parents wanted, your parent's house, cards, jewelry, and the entire estate can be handed to the idiot step-child.
It's our burden to figure out our parents' estate and handle all the details. And unfortunately, it's really, really common for brothers, sisters, uncles, and even caregivers to forge wills and try to take everything— and I mean everything!
So, you're not alone in this situation. And I know it's confusing. If you're not an attorney, then this will be very helpful for you. I'll walk you through how we work with probate cases and how a court-qualified handwriting expert can help you during the process.
At Handwriting Experts Inc., we are forensic document examiners. We require authenticated handwriting samples and signatures of the decedent (your mom or your dad who has passed away… and we determine if indeed the will for this person has been forged.
Here are the steps we follow to determine if a Last Will and Testament has been forged.
Is there a document with the original, or "wet", signature?
Often times in a probate case, there's an actual wet signature (pen and ink original) sitting at the courthouse under lock and key. But that's not always true. If it's possible to get access to that will, one of our experts will personally go to the courthouse with a microscope and a camera to inspect it professionally. At the courthouse, a forensic document examiner will take photographs of the document in question and confirm whether or not a human being's handwriting wrote and signed the will. Sometimes color photocopies can look like wet ink, but it is not the same under a microscope. See the graphic below. One photograph is a color printout, the other is a blue ballpoint pen written by a human hand.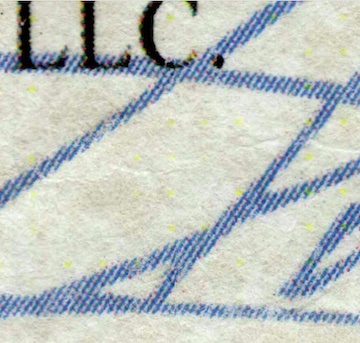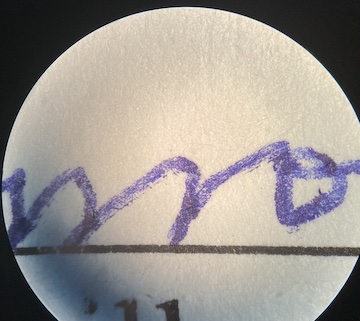 2 Compare the signature on the will with other samples of the decedent's signature.
Next, we'll compare those signatures to other samples of your parent's handwriting—their passport, visa, checkbook, birth certificates, wedding certificates, etc. We'll look for their known handwriting. Your that's your job is to find their known handwriting. And then, we will compare them using our skills of handwriting identification to determine authorship.
Write an Official report on the Authenticity of the signature on the will. Has it been forged or not?
We're handwriting experts. I've been doing this for 30 years; I'll know for sure whether that signature is forged. Even if the parent was really sick, or had Alzheimer's or Parkinson's, we can take all that into consideration. And it's impossible to slip a forgery past trained eyes.
So, once I or my team does that job, we decide if a forgery happened. If it did, we'll write a declaration. And if you need, we'll come to court and testify on your behalf.
If this is a service that you need, the pricing is on our website.
Whether you deal with me, any of our experts, or any other court-qualified handwriting expert in the country, the process is pretty much the same. In order to prove a forgery in court, you're going to have to hire a forensic handwriting expert, and they're going to have to be court qualified. They're going to have to testify. Otherwise, it's just your word against his (or her word).
And that's the process of how you handle the determination of a forgery of a will and testament in court. You simply hire the right forensic document examiner.
If you need our help, please reach out. There are respectable trained handwriting experts at a variety of price ranges at this directory: www.handwritingexperts.com. You can hire any of our professional experts on the website. If you want to hire me directly, go to handwritingexpertusa.com and speak to one of our case managers during your free consultation phone call. Bart Baggett takes cases worldwide. His main offices are in Los Angeles, Dallas, Miami, New York, and San Francisco.
We have offices around the country, and we'll travel to you to help you through this difficult time. While we know the circumstances for needing our services are not the best, at least you can rest knowing the wishes of your loved one have been fulfilled.
Call Now For a Price Quote On Your Case:
1-800-980-9030 or 323-544-9277